About This Programme
This is a two-year practical programme with eight modules, developed in consultation with industry.
As part of this programme, Apprentices will engage in on-the-job training with a SOLAS approved employer. Off-the-job training will take place in the classroom.
On completion of the programme, the Apprentice will hold a nationally-recognised QQI Level 5 Certificate in Scaffolding.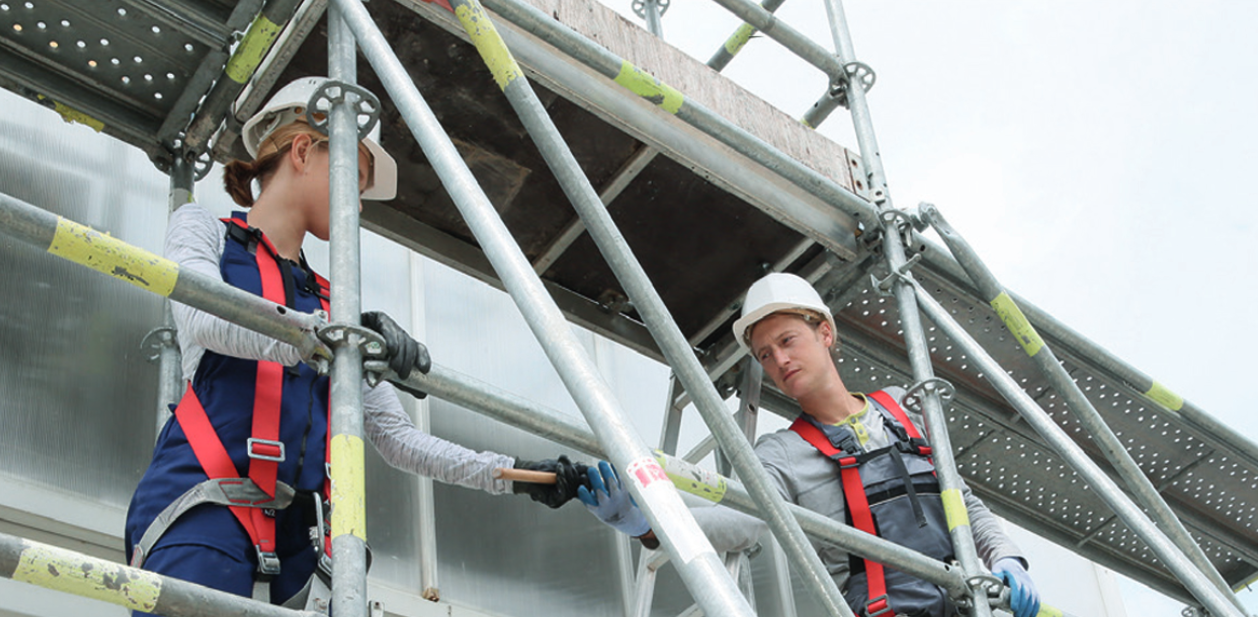 Entry Requirements
To be eligible for this apprenticeship, an applicant must:
Be employed by a SOLAS approved Employer
Be at least 16 years of age
Have a minimum of 3 months' site experience
Have a minimum of grade D in 5 subjects at Junior Certificate, or equivalent, to include Maths and English
Have evidence of CEFRL level B2 minimum if English is not a first language
Hold a current, valid Safe Pass registration card
Non-EU residents will be subject to a Stamp 4 Working Visa.
If an applicant doesn't meet the requirements, he/she may still register as an Apprentice with an employer if he/she is over 18 years of age and has at least two years' relevant work experience in the construction industry. Such applicants may be required to complete a suitability assessment/interview.
Recognition of Prior Learning (Experienced Scaffolders)
Must have a minimum of 4 years' experience and hold a valid CSCS Card or equivalent
Must attend a series of workshop
Have a minimum of 3 months' site experience
Undertake a Knowledge Test
Submit a completed Portfolio
Undertake a Practical Assessme
Why do this course?
Why you should consider doing a Scaffolding
Apprenticeship.
Recognised Qualification (Internationally NFQ)
Diversity/Range of work (Entertainment/Events, Commercial, Residential, Offshore, Industrial)
Work as part of a team
Earn as you learn
Programme Content
8 Modules over 2 Years
Year 1 / Stage 1
Basic Scaffolding Principles
Developing the Scaffolder (Personal and Professional)
Industry Skills for Scaffolders
Scaffolding Erection and Dismantling
Year 2 / Stage 2
Scaffolding Compliance
Management and Control of Scaffolding
Complex Structures
Capstone
This is an excellent opportunity to earn while you learn while gaining valuable industry experience to progress your career opportunities.

Additional Information
Apprentices will also receive training in
the following:
Abrasive Wheels
Mobile Elevated Work Platforms
Mobile Access Tower
Harness Inspection
The Employer pays the Apprentice for the duration of the
Apprenticeship. The rate of pay is agreed between the
Employer and the Apprentice.
Off-the-job location – National Construction Training Centre, Mount Lucas, Daingean, Co. Offaly
Employers are required to:
Be a SOLAS approved employer
Nominate a workplace mentor
Release the apprentice for the 'off-the-job' phases
Pay the apprentice for the duration of the apprenticeship